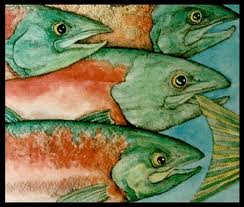 Never been to the Northwest Stream Center?  Get directions here: Contact.

First Flight: A Mother Hummingbird's Story

Winner! Best Independent Award
The hummingbird nesting movie, "First Flight" won BEST of Category – INDEPENDENT, Merit Award for Storytelling, Merit Award for Educational Value, Merit Award for Animal Behavior and Merit Award for Backyard Nature at the 33rd International Wildlife Film Festival, Missoula, Montana!

"Sometimes, the smallest thing can change your life…" one of the smallest birds in the world indeed changed the life of New York advertising photographers into the award winning film makers!

Documenting the lucky finding of the tiny hummingbird's nest on the clothesline in their new home in Las Vegas, the Carroll's turned the story of Honey, the mother hummingbird and her little chicks into a book and a movie…

This charming 45 minute nature documentary invites you to witness personal life of hummingbirds. Witness breathtaking moment of Honey laying her eggs and the tiny hatchlings Ray and Zen pecking themselves into a new life…

Date: Friday, February 13
Time: 7 PM
Tickets: This movie is FREE, however, you must register in advance by calling 425-316-8592
Age Recommendation: This fascinating and beautiful film is great for the whole family!  Attention parents: kids love this film.

The Streamkeeper

Join stream ecologist Tom Murdoch who introduce you to how to conduct a watershed inventory and how to monitor the physical, biological, and chemical characteristics of streams using many of the illustrations from theStreamkeeper's Field Guide: Watershed Inventory and Stream Monitoring Methods.

He will also introduce you to where you can find out about the history of your stream and its current social and political characteristics.

You will leave this presentation with a through knowledge of what a watershed is, the extreme importance of riparian zones, and the secret world of hyporheic zones.  And you will learn steps you can take now to protect and enhance your local stream and its surrounding watershed … how to become a Streamkeeper! Consider this easy approach in advance of the show.

Tom Murdoch is co-author of the Streamkeeper's Field Guide: Watershed inventory and Stream Monitoring Methods that is in use by stream and river groups across the U.S. The 296 page book is illustrated by Thomas Whittemore, with Gary Larson, Dave Horsey, Steve Greenberg, Chris Britt, Brian Basset, Ken Alexander, and Tom Toles.

While conducting stream surveys and restoration projects over the last 30+ years in NW watersheds, Murdoch also managed to be the editor of Adopting A Stream: A Northwest Handbook andAdopting A Wetland: A Northwest Guide, and the chief script writer for theStreamkeeper video starring Bill Nye the Science Guy.

This Streamkeeper Academy event is designed for anyone with interest in the ecological health of local streams.  While this presentation is geared for adults, advanced middle school and high school students will benefit.

There will be a Streamkeeper's Field Guide book signing at the end of the presentation.

Date: Thursday, February 26
Time: 7 PM
Tickets: This event is FREE, however, you must register in advance by calling 425-316-8592
Age Recommendation: Adults

Want to learn how you can determine if your local stream is suitable for fish and human contact recreation? Come to this FreeStreamkeeper Academy event on Thursday February 26