Latest issue update – 4/30/2014 – scroll to bottom
Original Action Alert as of January 2014:
Lynnwood Proposes to Resume Street Pesticide Spraying in 2014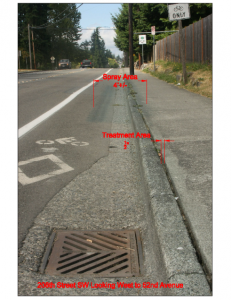 The City of Lynnwood's Public Works Dept. proposes to resume pesticide spraying on City streets and sidewalks in 2014 and is accepting public comments on their plan until January 31, 2014.
In August 2012 Lider Engineering, an environmental engineering consulting firm, observed City staff overspraying the herbicide glyphosate (also known as Roundup) along with other spray adjuvants in a four foot swath covering parts of the sidewalk, Interurban Bicycle Trail, gutter and street to eliminate a one-half inch (1/2") aesthetic weed problem at the back of curb using a spray-rig attached to the rear end of a pickup truck.  The City subsequently acknowledged that they were not in compliance with their Integrated Pest Management Plan (IPMP), a requirement of the Clean Water Act, and voluntarily halted all pesticide spraying in the public right-of-way only after these violations were brought to their attention.
Subsequent investigation of City's pesticide use by Lider Engineering revealed that the City staff had over applied carcinogenic fungicides at the City operated municipal golf course and failed to properly keep records of pesticide use required by law resulting in the reprimanding of two City employees by the Washington State Dept. of Agriculture.
Please tell the City of Lynnwood that:
You do not want them spraying any herbicides in the Public right-of-way for weed control, except as the very last resort.  They should use nontoxic alternatives such as string trimmers, burning with propane torches, or joint sealing to permanently control small weeds growing in pavement cracks.

 
They should adopt a

comprehensive

Integrated Pest Management Plan (IPMP) for the entire City.  The City is proposing to have a separate "Vegetation Control" IPMP for public streets, another IPMP for City Parks, and still another for its golf course.  The City's vegetation control IPMP is a piecemeal plan.

 
The City should not use its mechanical spray rig that is prone to overspraying.  Mounted on the rear of a pickup truck, the operator cannot tell if it is overspraying pesticides until it is too late.

 
If the City must spray pesticides, warning signs must be posted 48-hours in advance of any pesticide spraying and signs maintained until 48-hours after weed spraying to citizens may choose to avoid treated areas.  The City does not want to do this as it too much trouble and may create a public outcry.

 
If you live in the City of Lynnwood, you have the option to "opt-out" of spraying only immediately in front of your home; however the properties on either side of your home may still be sprayed.

 
If pesticide spraying is used as a last resort,

it should not extend more than one-half inch (1/2") from the edge of the area being treated onto adjacent surfaces; and pesticides should never be sprayed in gutters, streets, or sidewalks where they will run directly into our lakes and streams.

 
The City should adopt the pesticide definitions in RCW 15.58 and only use Tier 2 or Tier 3 pesticides as listed by the City of Seattle in its IPMP.  All pesticide records should be posted on line at the City's website as well as the areas in the City that have been sprayed.

 
The full IPMP is available on the City's website at:  http://www.ci.lynnwood.wa.us/City-Services/Environmental–Surface-Water-and-Storm-Water/Enviromental-Documents-and-Reports/DRAFT-IPMP.htm
Follow up 4/1/2014:
Subsequent to public comment and input, the City of Lynnwood has issued a new draft Vegetation Control Integrated Pest Management Plan. This details when and where in general the City plans to apply pesticide, and how citizens can opt out if they don't wish pesticides used on or in front of their property. At this time the City Public Works director states that Public Works has not determined a need for chemical spraying as of now, but still reserves the right to use them when deemed necessary.
Local citizen Bill Lider, who has been leading the effort to get Lynnwood not to spray pesticides, is still not satisfied with the plan. He and other local volunteers plan to place warning signs and distribute information concerning the risks of pesticides in areas the city plans to spray.
For more information, you can contact Sno-King Watershed Council via our Contacts page. We can connect you to Lynnwood Public Works and/or Mr. Lider.
Latest issue update 4/30/2014:
Sno-King Watershed Council spoke before the Lynnwood City Council on Monday, April 28. We are still advocating for the City of Lynnwood Public Works to use non-toxic methods of weed control.
Subsequently, Sno-King President Eric Adman had a conversation with Jared Bond, City of Lynnwood Environmental and Surface Water Manager. Here are the points he made: Mr. Bond stated the City does not have specific plans to apply herbicide right now.  If they determine to apply herbicide, it will be to areas between the sidewalk and curb where weeds grow, only to streets where there is no planting strip. Notice of intent to apply herbicide will be posted on the City of Lynnwood website one week in advance, and also in Lynnwood public buildings. Citizens who wish to opt out may do so by contacting the City. Herbicide applicators will have maps of the streets it will be applied with addresses where citizens have opted out. No herbicide will be applied if rain is forecast within 72 hours.  It is primarily a cost issue driving the use of herbicide – weed control using herbicide costs the City about $3-4000 a year; using mechanical means (string trimmers) would cost about $35,000 by their estimate, and sites would have to be re-visited, since the roots would not be killed.
Sno-King Watershed Council will continue to advocate for non-toxic methods. This topic will be discussed again at our May 28 board meeting.
Past Pesticide spraying on 208th Street SW August 2012