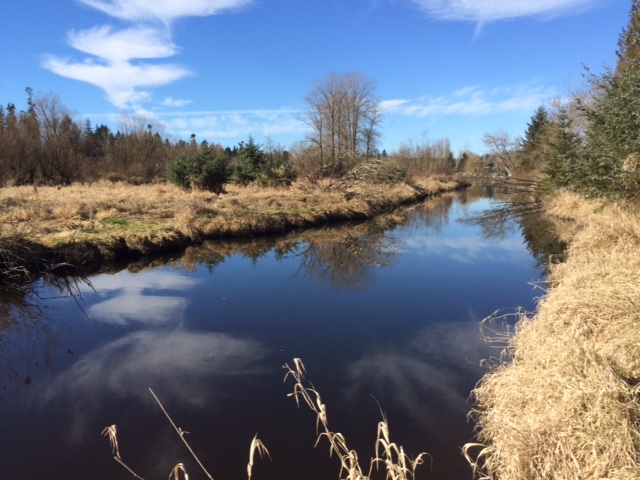 Squire's Landing Park Riparian Restoration
The Sno-King Watershed Council, partnering with the City of Kenmore and Adopt-A-Stream Foundation received funding from the Washington State Recreation and Conservation Office (RCO) for restoration of riparian habitat at the confluence of the Sammamish River and Swamp Creek. The long term goal of this effort is to restore the habitat-forming processes needed by Chinook salmon – both rearing juveniles and migrating adults.
3rd Kenmore canoe armada paddles to help Swamp Creek –  400 trees will be planted! 
On Saturday, February 18 between 10am and 1pm, kids and adults are going to be transported via canoe across Swamp Creek where they will plant 400 trees and shrubs that will be used to restore natural streamside vegetation benefitting salmon!  The more volunteers the merrier – you are invited to join the small armada of up to 15 canoes and team up with the Adopt A Stream Foundation, the Sno-King Watershed Council, and the City of Kenmore at the Kenmore Waterfront Activities Center 7353 NE 175th Street, Kenmore WA. Questions? Call the Adopt A Stream Foundation at 425-316-8592.
"This will be a fun Northwest event," says Adopt A Stream Foundation Director Tom Murdoch.  "Volunteers from the Kenmore Waterfront Activities Center are looking forward to transporting tree planting volunteers across Swamp Creek just upstream from the Sammamish River and Lake Washington. Of course, everyone should dress for the weather and waterproof footwear is a very good idea."  The Adopt A Stream Foundation will be providing volunteers with necessary tree planting equipment plus snacks to keep everyone's energy up.
While Canoes will make up part of the volunteer transport fleet, a Hobie Cat with a wood top will be the primary means of transporting plants and people.  The objective of this volunteer effort is to establish native  plants next to Swamp Creek where the current vegetation is invasive reed canary grass.  Results have been great – over 800 trees were planted at the first two events in November and January.
Washington State Salmon Recovery Funding Board funds were used to purchase the trees and shrubs and to prepare the Swamp Creek streamside area for for planting.  This event is the third of four scheduled tree planting activities at this location, the next will take place on Saturday March 18.
Media Photo Opportunities: Attendance during the November and January events averaged 40 kids and adults wearing orange life jackets in colorful canoes and planting trees and shrubs on the shore of lower Swamp Creek in the floodplain of the Sammamish River.  Photographers and reporters should wear rubber boots.
Contacts:
•Adopt A Stream Foundation – Tom Murdoch, 425-316-8592 (office) Walter Rung 425-231-0958 (on site)
•Kenmore Waterfront Activities Center – Doug Ritchie, 425-736-8094
•Sno-King Watershed Council – Eric Adman, 425-780-9731
Click the links below for some local media coverage:
http://www.king5.com/news/local/volunteers-plant-trees-to-help-salmon/354162639
http://komonews.com/news/local/volunteers-plant-trees-to-save-local-salmon-from-high-temperatures-in-kenmore-creek