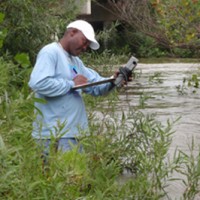 Please follow and like us:
Sno-King Water Watchers Program
Sno-King Watershed Council recently was awarded two grants to start a community-based water monitoring (CBWM) program in the north King /south Snohomish county area.
Our goal is to foster watershed stewardship through the development of volunteer water monitors. Citizens will monitor physical, chemical and biological indicators of watershed fitness. Monitors can use their data for protection and restoration of watersheds, streams and lakes, advocacy for the improvement of water quality and public health, and to implement environmental education programs.
We recently held three water monitoring workshops on June 17, 18, and 19, 2015.
The workshops included:
June 17 – Introduction to water monitoring & bacteriological monitoring.
June 18 – Water chemistry monitoring.
June 19 – Biological indicators of stream health.
While the workshops are over, we are still recruiting people interested in volunteering for this project. If you are interested, contact Eric Adman at snokingwatershedcouncil@gmail.com, or call 425-780-9731