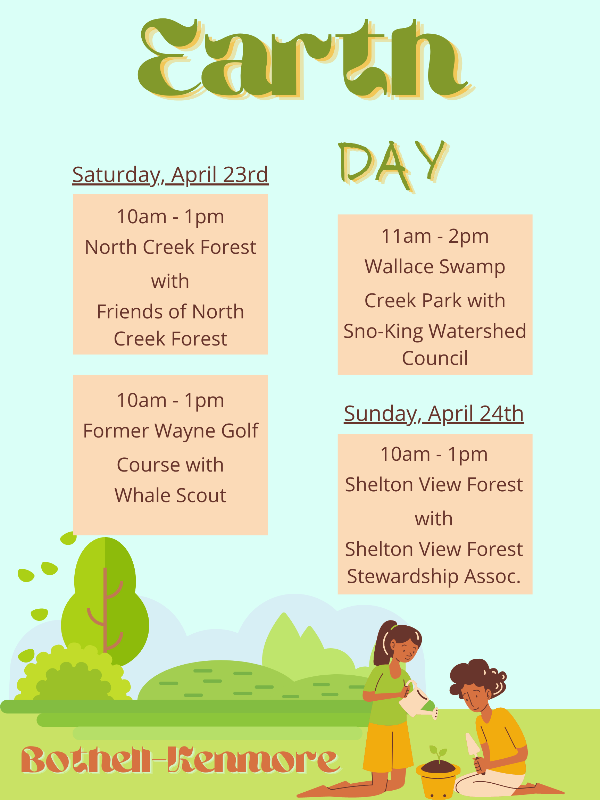 Please follow and like us:
Come together in community for Earth Day 2022 Events that make a difference!

GET OUTSIDE FOR EARTH DAY EVENTS IN BOTHELL-KENMORE! 
There are so many ways and places to make a difference on Earth Day!
Check out these local groups and opportunities to make good trouble for the benefit of the earth (and everyone and everything).
FRIENDS OF NORTH CREEK FOREST
NORTH CREEK FOREST (BOTHELL)
SATURDAY, APRIL 23, 10 AM – 1 PM
SHELTON VIEW FOREST STEWARDSHIP ASSOCIATION
SHELTON VIEW FOREST (BOTHELL)
SUNDAY, APRIL 24, 10 AM- 1 PM
SNO-KING WATERSHED COUNCIL'S
SWAMP CREEK HABITAT RESTORATION PROJECT
WALLACE SWAMP CREEK PARK (KENMORE)
SATURDAY, APRIL 23, 11 AM – 2 PM
WHALE SCOUT
FORMER WAYNE GOLF COURSE (BOTHELL)
SATURDAY, APRIL 23, 10 AM – 1 PM