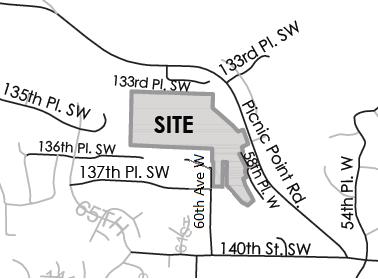 Please follow and like us:
GREAT NEWS! Mr. Lakhani, owner of the Frognal Holdings, LLC, apparently has failed to secure credit to refinance and continue this ill-conceived project.  The Frognal deed of trust will be sold at auction to the highest bidder on Snohomish County Courthouse steps at 10:00 am, July 24, 2020.
Sno-King Watershed Council is considering investors and donations to buy Frognal Estates to turn into a wildlife corridor.

Background:
Mr. Lakhani has tried unsuccessfully to get this project constructed since 2005, after local neighbors and the Picnic Point Preservation Committee (PPPC) forced the County to require an Environmental Impact Statement (EIS) be prepared; and then appealed the County's decision up to the Supreme Court, where PPPC lost.
Snohomish County's Planning and Development Services (PDS) approved the clearing of this environmentally valuable urban forest, before all permits necessary to construct the project were issued. In August 2018 the Sno-King Watershed Council (SKWC) appealed the early clearing Forest Practices Act (FPA) permit that allowed the Lakhani to log the site directly above homes in the Regatta Estates development. A King County Superior Court judge failed to uphold a temporary restraining order and the Frognal Forest was logged in December 2018.
Mr. Lakhani went on to send threatening letters of his intention to sue adjacent neighbors who did not cut down tall trees on their property, further increasing the detrimental impact of this project.
After pressure by the SKWC, the Alderwood Water and Wastewater District (AWWD) hired an independent consultant that in March 2019 confirmed SKWC's contention that the sewer design Frognal was not constructible and would have increased the landslide risk. Frognal's designer, Land Technologies, Inc. still have not been able to put forward a sanitary sewer design acceptable to AWWD. The site has not been reforested and remains in a disturbed state, increasing the risk of landslide harm and personal injury to the downslope Regatta Estates homeowners, with the threat of sediment delivery to Picnic Point Creek with its population of federally listed juvenile Chinook salmon.
Snohomish County has a dismal history with preventing landslides such as Oso; and more recently at the Snow Ridge development east of Lynnwood that would have put a State highway and traveling public in jeopardy of a landslide. Had SKWC not successfully appealed the PDS approved Snow Ridge permits the project would have been constructed. The Hearing Examiner was forced to overturn PDS's SEPA decision because WSDOT confirmed SKWC's concerns that were ignored by PDS. Unfortunately it takes intervention by outside agencies such as AWWD or WSDOT to force the County to address these hazards when PDS rubberstamps developer designs.
Moving Forward:
PDS and Snohomish County are directly responsible for the Frognal situation by allowing clearing of the forest prior to issuance of all permits necessary for construction; PDS has yet to admit it erred in approval of the Frognal project land clearing permits. PDS continues to consider issuing early clearing permits at the Ironwood development site PFN: 19-118531-LDA; and the Ambleside development PFN: 19-115780-SPA.
To rectify its mistake, PDS and the County should:
Snohomish County should purchase the Frognal property outright and accept responsibility for the cleared land.
Snohomish County should foreclose on Frognal's early clearing, $35,000 performance bond and use the bond money to help defray the costs to reforest and stabilize the site.
When reforested, the Frognal site should be incorporated into the County Parks system a passive park for the protection of wildlife and preservation of water quality in Picnic Point Creek.
The County Council should revise the County code to prohibit PDS from issuing early clearing FPA permits in the Urban Growth Area (UGA) in the future, until ALL permits necessary for construction are issued as recommended in SKWC's White Paper No. 3.
We will keep you updated on how we will proceed. It is our hope to have Frognal reforested before any landslides can occur and damage property and water quality. If you can, please copy and paste into an email:
Line: Moving Forward to Line: Bullet #4
<county.executive@co.snohomish.wa.us>
<Megan.Dunn@co.snohomish.wa.us>
<Stephanie.Wright@co.snohomish.wa.us>
<nate.nehring@snoco.org>
<Sam.Low@co.snohomish.wa.us>
Let Snohomish County Council know that your support SKWC's efforts to reforest Frognal Estates and to adopt new county codes to prevent this from happening to another forest stand or wetland.