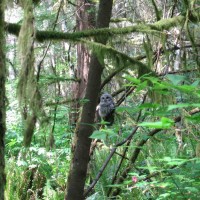 Please follow and like us:
"Raptors On the Wing"
at the Northwest Stream Center

Want to see a very large Golden Eagle "up close and personal?" Curious why Great Horned owls are referred to as "Tiger Owls?" What does the screech of a Barn Owl sound like? Did you know that there is an owl the size of a robin?  What does a Barred Owl really look like?  What hawk cry is used by Hollywood as the "scream of an eagle?"
On Wednesday, August 27 at 7pm at the auditorium of the Northwest Stream Center in Snohomish County's McCollum Park (600 128th Street SE, Everett WA 98208), you can learn answers to these questions and much much more.  Kestrel SkyHawk of the Sarvey Wildlife Center is bringing a very large Golden Eagle called Hu Iyake ("Legs Feathered" in the Sioux language) on her arm.  That Golden Eagle and a supporting cast of several owls and hawks will be joining Kestrel on stage for you to see up close and personal.
"The audience will be thrilled to see these beautiful raptors so close," says Adopt A Stream Foundation Director Tom Murdoch.  The term "raptor" comes from the Latin word "rapere" that means to seize or take by force.  Raptors are birds that hunt for food primarily on the wing, using their keen senses, especially vision.  They hunt primarily for mammals, but some will also hunt for other birds as well as fish.  Their talons and beaks tend to be relatively large and powerful and adapted for tearing or piercing flesh.
Kestrel will teach you about the habits and habitat requirements of these magnificent birds, their life histories, and favorite foods! She will teach you what its really like to "see like an eagle."  You will also learn steps that you can take to conserve and protect raptors.
Murdoch advises that Kestrel is very entertaining and a great story teller…and if the barn owl is in the mood, you may have to protect your ears from its screech!  This is a fun event for the whole family. Seating is limited so you should call 425-316-8592 now to register…remember the "early bird" gets a chair.  $7 for Adopt A Stream Foundation members, $10 for non-members.  Proceeds benefit the Sarvey Wildlife Center and the Adopt A Stream Foundation's Streamkeeper Academy.
This Streamkeeper Academy event is presented by the Adopt A Stream Foundation in partnership with Snohomish County Parks & Recreation.  To learn about other Streamkeeper Academy events call 425-316-8592 or go to www.streamkeeper.org.
Attached Photos:
Eagle Woman – Kestrel SkyHawk with golden Eagle on her arm
Barred Owl (by Tom Murdoch) at the Northwest Stream Center