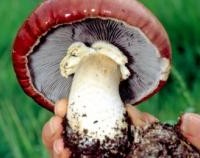 Please follow and like us:
Ah, the Garden Giant. He's a jolly fellow who roams around your garden at night tossing mulch as he merrily skips along, helping your veggies grow lush and tall.
Not quite. The Garden Giant is actually a species of mushroom, scientifically known as Stropharia rugosoannulata, that may hold a key to filtering harmful pollutants from stormwater runoff.
By SARAH STRUNIN click here for more info