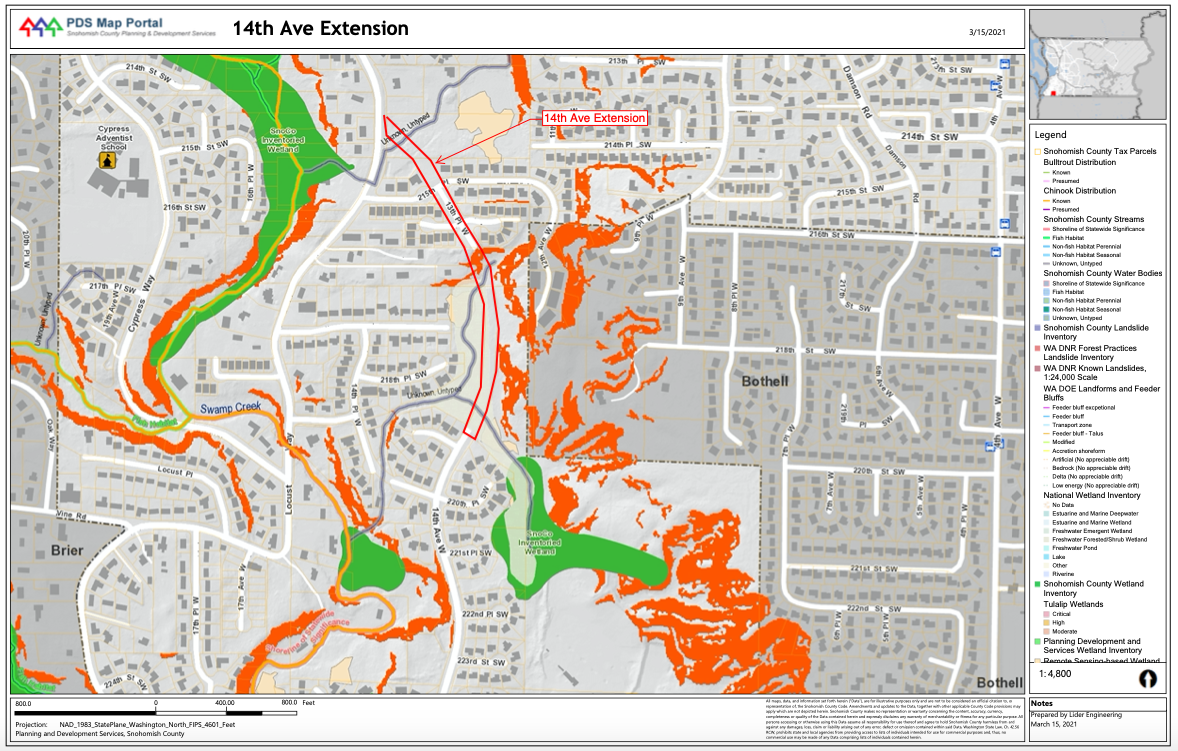 Please follow and like us:
Snohomish County is proposing to route most of the traffic from Locust Way to 228th St SW through a residential neighborhood. This will bring arterial traffic with increased noise, headlight glare, and greatly increase the risk of accidents. Why? To shave off about 30-seconds of commute time for residents living north on Locust Way and promote more development.

This project, costing over $3-million, will destroy a valuable wetland and wildlife habitat. Wetland mitigation is proposed in Little Bear Creek, where it will not mitigate the impacts to Swamp Creek.

What can you do?

Attend a Zoom meeting hosted by the Sno-King Watershed Council, March 20, 2021 at 4:00 pm to learn more. https://us02web.zoom.us/j/86246180254… or call in at Meeting ID: 862 4618 0254; Passcode: 919409; One tap mobile +12532158782,,86246180254#,,,,*919409#

1. Send a comment e-mail to the Snohomish County Council at contact.council@snoco.org opposing Motion 21-090 to extend 14th Ave from 228th Street to Locust Way, before March 24.

2. Speak at the County Council Zoom meeting, March 24, 2021 at 9:00 am and tell the Council that you oppose this unnecessary and unwise project. https://zoom.us/j/94846850772

3. Visit Sno-King Watershed Council's web page at: http://snokingwatershedcouncil.org/

DO NOT LET SNOHOMISH COUNTY DESTROY WETLANDS AND NEIGHBORHOODS

READ SKWC Board Member Bill Lider's letter to the Snohomish County Council opposing this project.

Wildlife Habitat Impacts are described in a draft report that SNOCO did not complete.
Staff_Reportbrbrbr

2021-03-16-14th-Ave.-Priortiy-Habitat-Species-Area-Map