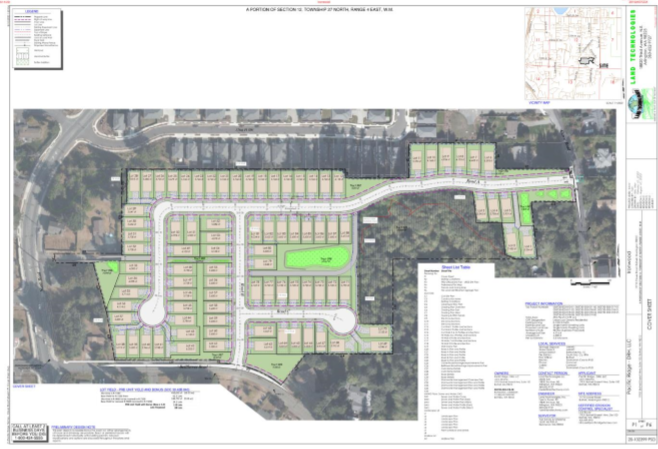 Please follow and like us:
IRONWOOD Permit No. 20?102399?PSD?SPA?REZO?WMD:
Back ground:
SKWC has filed another appeal of the Ironwood development.  This is our second appeal of the project that proposes clearing 13.3 acres and grading about 50,000 cubic yards of cut to fill and 50,000 cubic yards of import to make the site suitable for future urban residential development in an area designated as a Priority Habitat Species (PHS) area by WDFW.
SKWC first filed an appeal to stop the early clearing of the Ironwood site on July 22, 2020. As a result of that appeal, the early clearing permit was withdrawn. Still, the County allowed the developer, Pacific Ridge to demolish all the existing homes on the Ironwood site, destroying several million dollars of existing homes, making an appeal even more difficult.
SKWC believes that the project is still flawed and that the County's DNS decision should be withdrawn and an EIS required for the following reasons:
Category II Wetland Incorrectly Classified as Category III
Wetland Hydroperiod Will Not Be Maintained
Impacts to Wetland A Buffer
Infiltration Feasibility Not Determined
Low Impact Development (LID) Not Implemented
DNS Improperly Relies on Code Compliance
Stormwater Flow Control & Water Quality Treatment is Inadequate
Water Quality Treatment is Not Provided to East and West Basins
Landscape Buffer Vegetation Buffer not Provided
Lack of Reasonably Sufficient Information
Project's Impacts Are Actually Significant
What you can do:
The Hearing Examiner only scheduled 1-day for the open record hearing of SKWC's Ironwood appeal will be held on December 22, 2020 at 9:00 am; this portion of the hearing will be for expert testimony only.  There will be an opportunity for public input on Ironwood in the evening at 6:30 pm December 22, 2020.  The entire Ironwood hearing will be on Zoom and you can listen to daytime portion and you are encouraged to tell the Hearing Examiner about how you feel in the evening portion of the hearing.
You are also encouraged to send written comments on both projects to the Hearing via e-mail at hearing.examiner@snoco.org.  Any written comments or public testimony must be received before the close of the hearing, to be included in the record. Please contact hearing.examiner@snoco.org and let Hearing Examiner Peter Camp know how you feel about both projects.
Why this project is bad:
"North Creek supports Chinook, Coho, and Sockeye Salmon, Steelhead, resident and sea-run cutthroat trout and a variety of other fish species. It also supports signal crayfish, fresh water clams and mussels as well as a wide variety of aquatic insects. Unfortunately, development that was constructed not using low impact design techniques has had a dramatic negative impact on these aquatic resources. Salmon spawning and rearing habitat has been degraded throughout the watershed and fish populations have declined dramatically. The proposed Ironwood project is another poorly planned development that will increase peak and volume flows in North Creek that will further degrade fish habitat. In addition to being one of the founders of the Sno-King Watershed Council, I am the Executive Director of the Adopt A Stream Foundation and manage the Northwest Stream Center. The Northwest Stream Center (NWSC) is located upstream next to the main-stem of North Creek at 600 -128th Street SE, Everett WA, 98208. North Creek is an attraction to NWSC visitors who enjoy tours past wetlands that were restored from a parking lot onto an Elevated Forest and Wetland Walk that wind through 25 to 30 acres of North Creek riparian 3-feet above the forest floor and surrounding wetlands. Along that tour is the Salmon Arena Viewpoint where visitors can view Coho Salmon. The cumulative impacts of poorly planned development have resulted in fewer fish returning making the Northwest Stream Center less attractive to visitors. Since I have been observing salmon in North Creek since 1978, I am personally saddened by their decline. However, personal feelings aside, further degradation of the salmon run from poorly designed development like ironwood has a negative impact on the admission revenues at the Northwest Stream Center and the overall operation of the Adopt A Stream Foundation (www.streamkeeper.org)."
-Declaration of Thomas B. Murdoch
"My family and I have lived in Kenmore since 1995. In that time we have been lucky enough to enjoy the natural beauty of North Lake Washington, the Sammamish River, and its tributaries including , including North Creek. We have also been active in protecting and restoring our stream ecosystems. In past years, we have taken students from Lockwood Elementary in Kenmore to North Creek to observe spawning ocean-going sockeye salmon and freshwater resident kokanee, Coho salmon, and even the occasional king salmon. I n addition to the populations of returning salmon, students would observe the many avian species (for example: great blue heron, mergansers, kingfishers) that relay on the fish species for their existence, and the amphibians and mammals (such as beaver) that are part of the river ecosystem. Unfortunately, we have observed a decline in many of the fish species over the years. This decline is clearly related to development in the North Creek watershed. Land development, the loss of forest cover, the increase in imperious surface, and especially the loss of wetlands has changed the hydrology of North Creek. It is clearly noticeable in North Creek that even minor storm events result in rapid increases in stream flow. These increased flows, common during the autumn spawning season result in scouring of fish redds (egg nests) or the smothering of these redds with fine sediment. Further, impervious surfaces prevent groundwater recharge and result in lower summer stream flows and higher stream temperatures. Coho salmon juveniles and cutthroat trout and rainbow trout/steelhead reside in creeks for extended periods, and summer conditions can be limiting to survival. There have been numerous studies on streams and effects of urbanization, many of those studies identify tipping points where the effects of development result in an ever-downward spiral of hydrological conditions. All of the many species that utilize the North Creek basin require an intact ecosystem, and North Creek is perhaps at the tipping point. The Ironwood development will likely affect many of the key contributors to stream hydrology: wetlands that retain storm water and aid in groundwater recharge and buffers that maintain wetland functions and persevere vegetation (trees can reduce the amount of precipitation that reaches the ground). If wetlands and their buffers are misclassified (downgraded) the stream hydrology will suffer. insufficient stormwater mitigation will result in continued stream scour, erosion, and overall degradation. Kenmore's streams have all but lost their salmon runs and we now go to North Creek to monitor salmon. It would be a tragedy to see North Creek lose its natural heritage.
-Declaration of James M Myers